Agoda has released a new rewards system called PointsMAX and you can now earn extra miles when you book hotels on Agoda.com. There are total 8 miles partners you can choose including American Airline AAdvnatages, Delta Air Lines SkyMiles, Malaysia Airlines Enrick, Untied MileagePlus, AirAsia BIG, Asia Miles, Jetprivilege and Pingan Wanlitong.
You can access all the landing page here: 
http://www.agoda.com/asiamiles

https://www.agoda.com/airasiabig

http://www.agoda.com/malaysiaairlines

http://www.agoda.com/aadvantage

http://www.agoda.com/mileageplus

http://www.agoda.com/wanlitong

Is it worth to book on Agoda and earn Miles? 
Please note that if you want to earn miles, make sure you have select your program on the top drop down box.

After that you can check the room rate and it will display how many miles you will earn. Below example shows you can earn 400 Asia Miles when you book the superior book at USD 98. You need to know if you don't wish to earn mile, you can actually pay a cheaper rate at USD 88 for the superior room. (See below screenshot)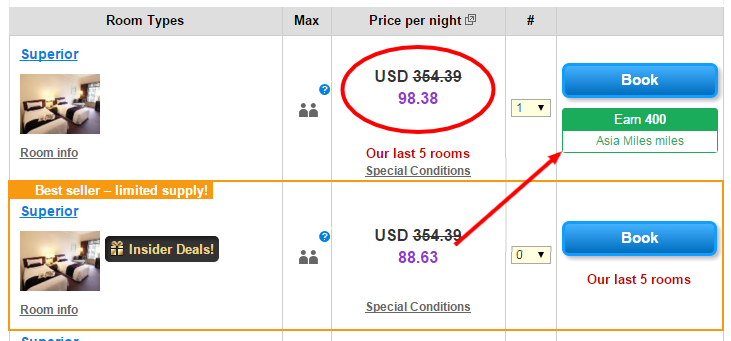 Now is a matter of paying extra USD10 to get 400 Asia Miles. For me I consider it is a very good deal because paying USD1 to buy 40 Asia Miles not expensive and make sense.
Booking link: http://www.agoda.com/asiamiles
If you want to earn some extra miles for your next booking, take a look on Kaligo.com. When you sign up from this link, you can earn 1,000 bonus miles on your first booking.
Want to get latest Hotel deals Update?
If you have any problem finding the deal above, you can leave me a message here or on my Facebook fan page. Follow our Facebook, Twitter and Google page to get the latest hotel deals!
Facebook: https://www.facebook.com/hotelpromobook
Twitter: https://twitter.com/Secret_deal
Google Plus: https://plus.google.com/u/0/110998186824811947357/posts
If you want to find the deals like this, please follow me on Facebook or subscribe my mailing list. I only send Max. 1 email per day.